Eugene (34) from Windhoek was born again at 18 at a Catholic school chapel. God led him to Oslo.
Born of Namibian parents in 1977 during the time of apartheid, Eugene Ian van Wyk was a regular, active guy. He excelled at football so much that he nearly landed a football scholarship abroad.
Eugene was raised as a nominal methodist, but at the age of 16, he started seeking spiritual realities. He investigated several religions, but what really caught his attention was the televangelist from Bahamas, Myles Munroe. -Munroe's teachings on life purpose really affected change in my life, says Eugene.
At a catholic school chapel on August 12th, 1996 at 9am in the morning, Eugene heard a testimony from a charismatic seaman, and he made a firm decision to follow the Lord.
-I started following Jesus purposefully, and when I moved to study in Stellenbosch, South Africa (B.A. Arts & B.A. Occupational Theapy) 1997-2002, I got involved in a campus based charismatic church, a good spiritual home to grow in, says Eugene.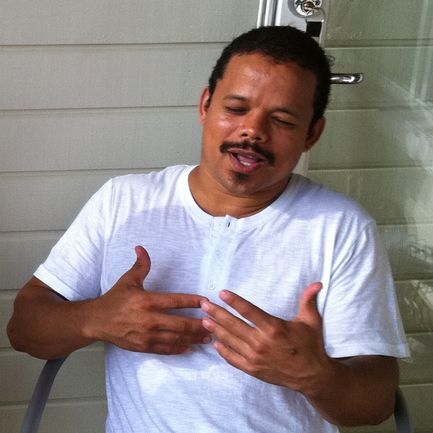 After that Eugene and his best friend and fellow student in Stellenbosch, Elton Black, moved back to Windhoek and planted a church.
-It was exciting. New frontiers. Starting from scratch out of a home Bible study, remembers Eugene.
In 2008 Eugene was led into deeper dimensions through Ariel Gate Ministries and apostle Natasha Vermaak, learning the realities of God's Kingdom.
In August 2010 Eugene came on a scholarship for post graduate studies at Oslo University College.
Eugene says with his characteristic smile: -I love Norway and the Norwegians.
Pastor Jan-Aage adds: -We love Eugene!
Eugene & Jan-Aage are united by their passion for Jesus - and Manchester United!
Photo Credits: Aina Torp