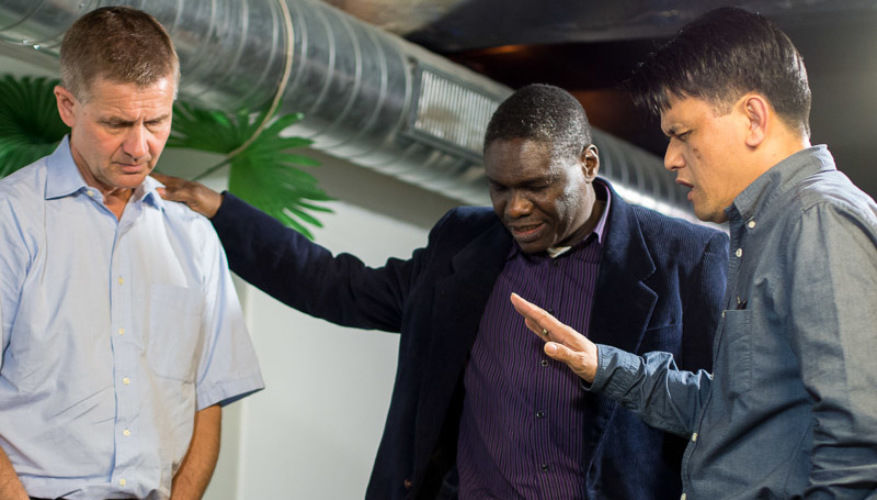 Erik Solheim receiving prayer from Oslo-ministers Duke Ajieh (Nigeria) and Victor del Valle (Philippines) who both lead growing networks in Europe (photo; Tor H. Lanton)
20 ministers from Greater Oslo received Erik Solheim with open arms in the monthly gathering for 5-fold ministers in the Pubchurch today. He gave a strong challenge to live like Jesus in a world of poverty, environmental challenges and conflict. Erik Solheim, the chairman of the OECD-appointed Development Aid Committee (DAC) in Paris, encouraged 5-fold ministers in Oslo, Norway to use their authority to mould society. (Listen to audio nuggets below)
Background on Solheim
Erik Solheim (born 1955 in Oslo) is the new Chairman of the DAC (Development Assistance Committee), based in Paris, France, under the Organization for Economic Cooperation and Development (OECD). Solheim is a Norwegian politician for the Socialist Party (SV), serving as a member of the Parliament of Norway from 1989 to 2001. In 2005 he was appointed Minister of International Development, and in 2007 also Minister of the Environment, and sat in both offices until 2012. He has worked successfully as an international diplomat and peace negotiator in several conflict centers of the world. Solheim is known as a professing Christian, and is a spokesperson for respecting the role of religion in society.
In 2012 Solheim said in a religion debate (according to the newspaper Vårt Land): «I am worried that the knowledge of Christianity is drastically declining in Norwegian society». And further: «Christmas is not the core of Christianity, but the death of Jesus on the Cross is the core! That is the most significant event in world history!« He also stated: «In the 20th century, the ruling idea was that religion would die out in line with scientific insight. But in all societies, religion has proven itself as incredibly adaptable». «We can see in the American presidential election campaign that God is back. There, it is almost impossible for American politicians to be elected, if they are not open about faith». According to Solheim, neither Abraham Lincoln, Thomas Jefferson, nor George Washington would have passed that kind of test today: «In almost all nations where I am involved, faith plays a very central role. It is difficult for us in Norway to understand that, because we are one of the most secular societies in the world. Well enough, many in Norway are members of a denomination», underscores Solheim, but «faith does not affect their daily lives to any extent».
Challenged ministers
The monthly gatherings for 5-fold ministers in the Greater Oslo area started in September 2012, and are hosted by Aina & Jan-Aage Torp in their very untraditional environment at a local pub in downtown pub.
Erik Solheim seemed to thrive in these surroundings, both as a pub, and as a gathering of Pentecostal ministers.
Solheim expressed great respect for the worldwide pentecostal movement, and said that «you have a moral authority that we politicians can only dream about!»
On Friday, Solheim challenged the pentecostal-apostolic ministers to live like Jesus. He emphasized the calling to combat poverty, protect the climate and environment, and resolve conflict. Ministers who represent the world´s most influential Christian movements on all continents, received the challenges with great seriousness and commitment. The discussions were lively and candid, covering every region of the world.