Pastor Jan-Aage Torp taught yesterday on the significance of the Resurrection of Jesus Christ. His message was focused on the victory over the fear of death.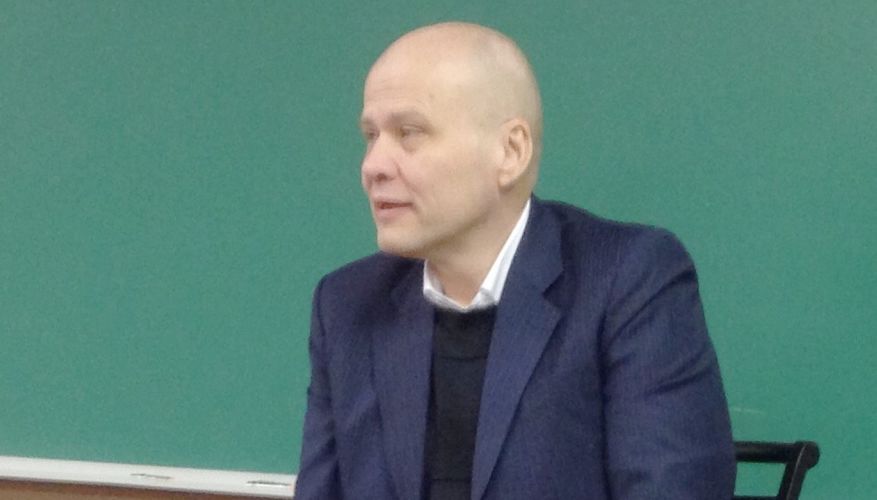 Our pastor based his presentation on John 11:25: «Jesus said to her, "I am the resurrection and the life. The one who believes in me, even if he dies, will live". -Jesus had to be God and have the power to conquer death in order for us to receive eternal life, said Jan-Aage.
He then emphasized 1John 5:19: «We know that we are from God, and the whole world lies in the power of the evil one», and said that we need to have faith in the resurrection power of Christ that is within us individually and in the fellowship of believers. When we practice our faith, then we will have victory over the demonic stronghold in the world.
Pastor Jan-Aage made a bold case for the Resurrection of Jesus:
-Jesus had to rise physically, bodily, from the dead "so that he could be our merciful and faithful High Priest before God. He then could offer a sacrifice that would take away the sins of the people" (Hebrews 2:17). That is why Paul the apostle was so emphatic about the bodily resurrection of Jesus being the foundation of our faith, said Jan-Aage. -Paul said, "If Christ has not been raised, then all our preaching is useless, and your faith is useless" (1 Corinthians 15:14).
-Jesus' promise to forgive us of our sins and be the atoning sacrifice that would allow us to have a relationship with God was based not only upon his death, but also upon his resurrection to conquer death and present his own blood sacrifice before God the Father, underscored Jan-Aage Torp and referred to 1 Corinthians 15:17,19-20: "If Christ has not been raised… then your faith is useless, and you are still under condemnation for your sins…[and] we are the most miserable people in the world…But the fact is that Christ has been raised from the dead".
-It is a historical reality that Jesus' body was raised to new life! exclaimed Torp boldly. -And because of that, we have new life. "God is so rich in mercy, and he loved us so very much, that even while we were dead because of our sins, he gave us life when he raised Christ from the dead" (Ephesians 2:4-5).
-The resurrection shows us clearly that death has no power over the righteous Son of the sovereign God. Jesus broke the power of death by rising from the grave, and in doing so he pierced the kingdom of darkness with a penetrating light. What seemed to be the destruction of Christ, throwing the human race into a hopeless situation, proved to be the very means of the hope of eternal life, said Jan-Aage Torp.
-Christ's sacrificial death for our atonement would have been meaningless without his bodily resurrection. Unless Jesus did literally rise from the dead, his promise of forgiven sins and an eternal relationship with God is nothing but a fantasy, a false hope. Jesus' death was an atoning necessity and his resurrection a historic necessity if our salvation is to mean anything at all.
-This bold faith is perfected in love, declared Jan-Aage Torp and read 1John 4:16-19: «And we have come to know and have believed the love that God has in us. God is love, and the one who resides in love resides in God, and God resides in him. By this love is perfected with us, so that we may have confidence in the day of judgment, because just as that one is, so also are we in this world. There is no fear in love, but perfect love drives out fear, because fear includes punishment, and the one who is afraid has not been perfected in love. We love, because he first loved us.
Pastor Jan-Aage then declared: -I believe with confidence that Jesus rose from the grave!
He read Luke 24:5-12 and Mark 14:48-50 which showed how terrified and unbelieving the disciples of Jesus were after the Crucifixion. They were not in a mood to make up a story of the Resurrection on Jesus, but were clearly trying to hide themselves.
-Could such a group of disciples steal Jesus´ Body? asked Jan-Aage emphatically. -Matthew 28:11-15 shows how stories were made up. Matthew 27:60 describes how a huge stone covered the entrance to the tomb. Hardly something that the fearful disciples would even try to remove! And Matthew 27:62-65 shows how the tomb was secured by a guard of soldiers,
-But then something happened that suddenly made the fearful, trembling disciples of Jesus bold: The Resurrection! The historical record asserts that mere weeks after the death of Jesus, his followers were publicly preaching the news of his resurrection. During the week of Pentecost, in fact, thousands were "baptized and added to the church" as a result of this preaching (see Acts 2:41).
Jan-Aage maintained: -You can be sure that if Jesus' body hadn't been resurrected, the religious and political leaders of the day could have quickly and effectively quashed the rising sect of Christianity by locating Christ's corpse and wheeling it through the streets of Jerusalem. This would have been undeniable evidence that the resurrection was a hoax. It would have destroyed Christianity practically before it started.
Pastor Jan-Aage finished his teaching with a time of prophetic ministry in Oslochurch, and Pastor Aina led worship and communion.