«And God will wipe away every tear from their eyes; there shall be no more death, nor sorrow, nor crying. There shall be no more pain, for the former things have passed away» (Revelation 21:4). Watch video with George Beverly Shea singing «The Love of God is Greater Far».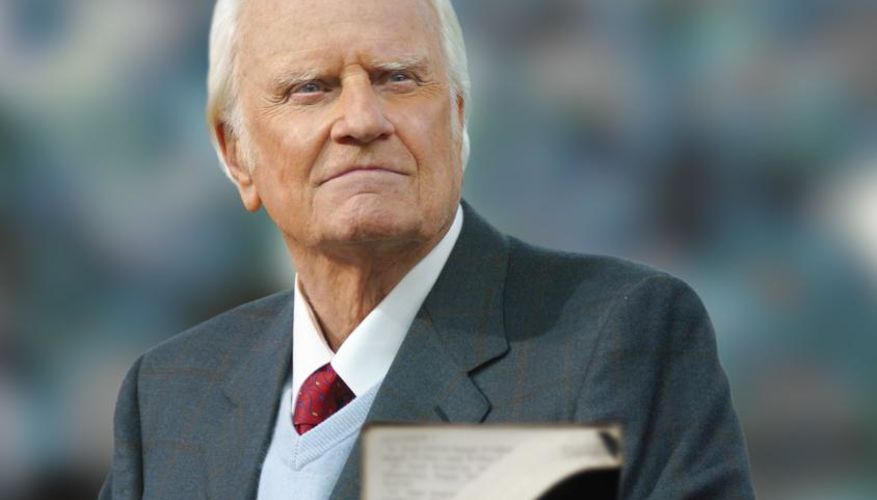 Billy Graham
(Chapter 19 of Billy Graham´s book «Peace with God»)
IN THIS BOOK we have been looking at what it means to be at peace with God. We now know what it means to be a Christian. We know the price that was paid to get this illusive thing called peace and happiness. I know men who would write a check for a million dollars if they could find peace. Millions are searching for it. Every time they get close to finding the peace found only in Christ, Satan steers them away. He blinds them. He throws up a smoke screen. He bluffs them. And they miss it! But we Christians have found it! It is ours now forever. We have found the secret of life.
The word «peace» has been used often in the last forty or fifty years. We talk about peace, and we have many peace conferences; yet at the moment it seems that the world is heading toward anything but peace.
«The way of peace have they not known,» the apostle Paul says concerning the human race (Romans 3:17). As we look around, we find that there is little personal, domestic, social, economic or political peace anywhere. Why? Because we all have the seeds of suspicion and violence, of hatred and destruction within us.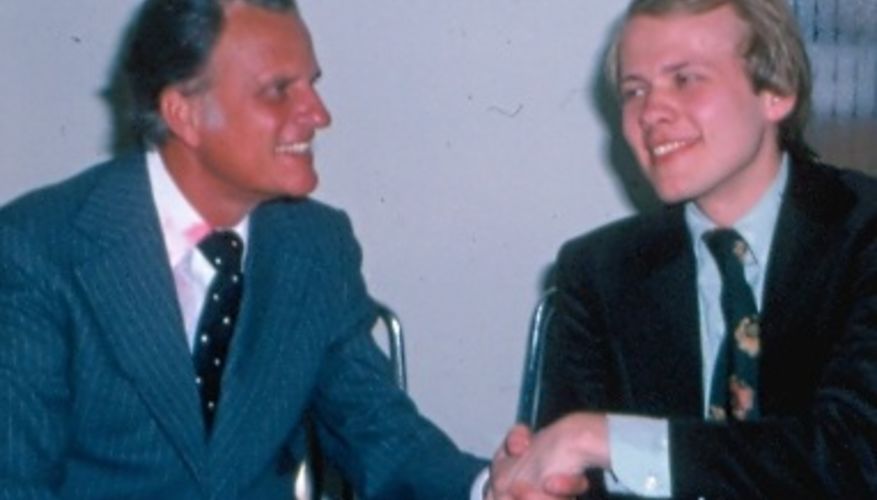 Billy Graham & Jan-Aage Torp two years after Jan-Aage gave his life back to Jesus
Jesus said, «Blessed are the peacemakers» (Matthew 5:9). We are to try for peace. This does not mean pacifism. We are to work for peace. But Jesus also predicted: «You will hear of wars and rumors of wars, but see to it that you are not alarmed. Such things must happen, but the end is still to come. Nation will rise against nation, and kingdom against kingdom» (Matthew 24:6-7).
Peace can be experienced only when we have received divine pardon -- when we have been reconciled to God and when we have harmony within, with our fellow man and especially with God. «There is no peace, says my God, for the wicked» (Isaiah 57:21). But through the blood of the cross, Christ has made peace with God for us and is Himself our peace. If by faith we accept Him, we are justified by God and can realize the inner serenity that can come to man through no other means. When Christ enters our hearts, we are freed of that haunting sense of sin. Cleansed of all feeling of contamination and unfitness, we can lift up our heads secure in the knowledge that we can look with confidence into the face of our fellow men. "When a man's ways please the Lord he makes even his enemies to be at peace with him" (Proverbs 16:7). Even more important, we know that we can stand before God in the hour of our death with this same feeling of peace and security.
In the Bible Jesus told us there is going to be war until the end of the age. He knew that human nature is not going to change without a spiritual new birth. He knew that the vast majority of the human race were never going to be converted to Him. The vast majority of the people of the world today are not «born again.» So we always have the potential that violence will break out in a home, in a community, in the world.
There are three kinds of peace described in the Bible.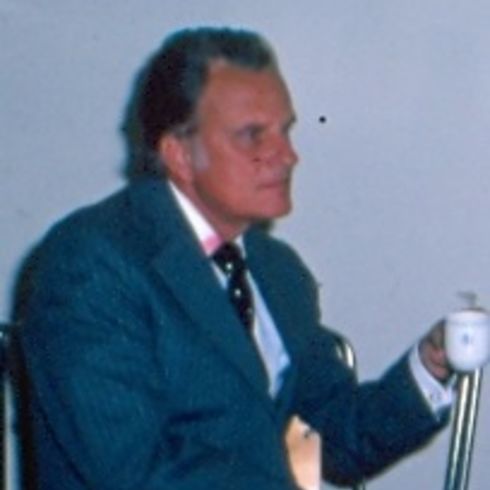 Billy Graham in an interview with Jan-Aage Torp in Oslo
Peace with God
First, peace with God. «Therefore being justified by faith, we have peace with God through our Lord Jesus Christ» (Romans 5: 1). «Having made peace through the blood of his cross» (Colossians 1: 20). There is a peace that you can have immediately -- peace with God.
The greatest warfare going on in the world today is between mankind and God. People may not realize that they're at war with God. But if they don't know Jesus Christ as Savior, and if they haven't surrendered to Him as Lord, God considers them to be at war with Him. That chasm has been caused by sin. The Bible says that all have «sinned and come short of the glory of God» (Romans 3:23). «Oh,» people say, «I have joined the church. I have been baptized.» But has Jesus come to live in their hearts? Not only as Savior, but as Lord?
It would be the greatest tragedy if I didn't tell you that unless you repent of your sins and receive Christ as your Savior, you are going to be lost.
«For God so loved the world, that he gave his only begotten Son, that whosoever [that «whosoever» is you] believes in him should not perish, but have everlasting life» (John 3:16). It's not just head-belief. It's heart-belief too. It's total trust, total commitment. We bring everything to the cross where the Lord Jesus Christ died for our sins. He made peace with God by His death on the cross. If we turn our backs on Him, and don't commit our lives to Him, we will have no hope in the future.
For one to have peace with God, it cost the blood of His Son. «With the precious blood of Christ, as of a lamb without blemish and without spot,» said Peter (1 Peter 1:19). If I were the only person in all the world, Jesus would have died for me, because He loves me. And He loves you! His love is pouring out from the cross.
«Meet me in heaven»
I read a biography of Queen Victoria, and I learned that the queen would sometimes go to the slums of London. She went into one home to have tea with an older lady, and when the queen rose to leave, she asked, «Is there anything I can do for you?» And the woman said, «Yes, ma'am, Your Majesty, you can meet me in heaven.» The queen turned to her and said softly, «Yes. I'll be there, but only because of the blood that was shed on the cross for you and for me.» Queen Victoria, in her day the most powerful woman in the world, had to depend on the blood of Christ for her salvation. And so do we. The Bible says that God is the Author of peace (1 Corinthians 14:33). God provided salvation through the cross. He made peace by the shedding of His blood. The war that exists between you and God can be over quickly, and the peace treaty is signed in the blood of His Son Jesus Christ.
Are you at peace with God? Or do the sins of your heart separate you from God?
The Peace of God
The second peace spoken of in the Bible is the peace of God. Everyone who knows the Lord Jesus Christ can go through any problem, and face death, and still have the peace of God in his heart. When your spouse dies, or your children get sick, or you lose your job, you can have a peace that you don't understand. You may have tears at a graveside, but you can have an abiding peace, a quietness.
A psychiatrist was quoted in the newspaper as saying that he could not improve upon the apostle Paul's prescription for human worry. Paul said, «Be anxious for nothing; but in everything by prayer and supplication with thanksgiving let your requests be made known to God. And the peace of God, which passes all understanding, shall keep your hearts and minds through Christ Jesus» (Philippians 4:6-7). Be anxious for nothing. How many times do you and I fret and turn, looking for a little peace? God's peace can be in our hearts -- right now.
Colossians 3:15 says, «Let the peace of God rule in your hearts.» Some of you believe that you know Jesus Christ as your Savior, but you haven't really made Him your Lord. You're missing the peace of God in your struggles and turmoils and trials and pressures of life. Is the peace of God in your heart?
We are all familiar with transformation that took place in Saul on the road to Damascus, when Christ entered his heart and changed him from one of His most destructive enemies to one of His mightiest advocates. Many equally dramatic changes in human personalities are taking place today, and they are being brought about by the self-same means that transformed Saul into Paul -- birth again through Jesus Christ!
There is no human philosophy that can achieve such changes or provide such strength. This mighty strength stands ready to be available at your beck and call at all times. God said, "Do not fear, for I am with you; do not be dismayed, for I am your God.
«I will strengthen you and help you; I will uphold you with my righteous right hand» (Isaiah 41:10).
Whatever the circumstances, whatever the call, whatever the duty, whatever the price, whatever the sacrifice -- His strength will be your strength in your hour of need.
There are physical benefits that accrue from Christian living. Sin and the sense of inner unworthiness impair physical and mental well-being. The sense of physical impurity and physical immorality, the sense of hatred directed toward our fellow men, the awareness of our own inadequacy and frustration and our inability to achieve the goals to which we aspire -- these are the real reasons for physical and mental illness. The sense of guilt and sin that natural man carries within himself renders him unfit for the performance of his duties, renders him sick in both mind and body. It was no accident that Jesus combined healing with His preaching and teaching when He was on earth. There is a very real relationship between the life of the spirit and the health of the body and mind.
Peace with God and the peace of God in a man's heart and the joy of fellowship with Christ have in themselves a beneficial effect upon the body and mind and will lead to the development and preservation of physical and mental power. Thus, Christ promotes the best interest of the body and mind as well as of the spirit, in addition to inward peace, the development of spiritual life, the joy and fellowship with Christ, and the new strength that comes with being born again.
There are certain special privileges that only the true Christian can enjoy. There is, for example, the privilege of having divine wisdom and guidance continually. The Bible says, «If any of you lacks wisdom, he should ask God, who gives generously to all without finding fault, and it will be given to him» (James 1:5).
Also the Christian has a sense of true optimism, the assurance that according to divine revelation everything will turn out well in the end.
The Christian also has a world view. This world view sets forth God's purpose and the end toward which all are proceeding. It assures us that in spite of men's war upon each other and in spite of the destructive forces of nature which seem to hold us in their grip, God is still on the throne and in command of everything. Satan himself is held back by God's power and given an opportunity to exercise his evil influence only as God sees fit and only as long as God sees fit to let him do it. The Scriptures teach us that God has a definite plan for each period of history, for every nation and for every individual. The Scripture discloses God's plan for the return of Christ when His kingdom shall be established, as we have already seen. Thus, for the Christian, life has a plan and an assurance that God will ultimately triumph over all unrighteousness.
In summing up the superiority of the Christian life over all other ways of living we cannot overlook the advantage that the Christian will have for all eternity. Job said, «If a man die, shall he live again?» (14:14). He answered his own question when he said, «For I know that my Redeemer lives and that he will stand at the latter day upon the earth» (Job 19:25).
What a prospect! What a future! What a hope! What a life! I would not change places with the wealthiest and most influential person in the world. I would rather be a child of the King, a joint-heir with Christ, a member of the Royal Family of heaven!
I know where I've come from, I know why I'm here, I know where I'm going -- and I have peace in my heart. His peace floods my heart and overwhelms my soul!
The storm was raging. The sea was beating against the rocks in huge, dashing waves. The lightning was flashing, the thunder was roaring, the wind was blowing; but the little bird was asleep in the crevice of the rock, its head serenely under its wing, sound asleep. That is peace: to be able to rest serenely in the storm!
In Christ we are relaxed and at peace in the midst of the confusions, bewilderments, and perplexities of this life. The storm rages, but our hearts are at rest. We have found peace -- at last!
Future Peace
The third peace the Scriptures mention is future peace. The Bible promises that there will be a time when the whole world is going to have peace. It seems that the world is heading toward Armageddon. In Revelation 6:4 John the beloved apostle says there's a red horse, «and power was given to him that sat thereon to take peace from the earth.» We're not going to have peace -- permanent peace -- until the Prince of Peace comes.
And He is coming. One of these days the sky is going to break open and the Lord Jesus Christ will come back. He will set up His reign upon this planet, and we're going to have peace and social justice. What a wonderful time that's going to be!
Isaiah predicted, «The government shall be upon his shoulder: and his name shall be called Wonderful, Counselor, The mighty God, The everlasting Father, The Prince of Peace. Of the increase of his government and peace there shall be no end» (Isaiah 9:6-7). Think of it: no fighting, no war, no hatred, no violence. It will all be peace.
To be with Christ
Do you know Christ? Are you sure He's in your heart? Perhaps you have been thinking, «I want to be sure I have peace with God. I want to be sure that I'm ready for death. I want my sins forgiven. I want my guilt removed. I want to be with Christ when He comes and sets up His Kingdom.»
It's all yours, and it's free. You don't have to work for it. «For by grace are you saved through faith; and that not of yourselves: it is the gift of God: not of works» (Ephesians 2:8-9).
Give your heart and life to Christ now. Do not put it off.
George Beverly Shea --I´d Rather Have Jesus