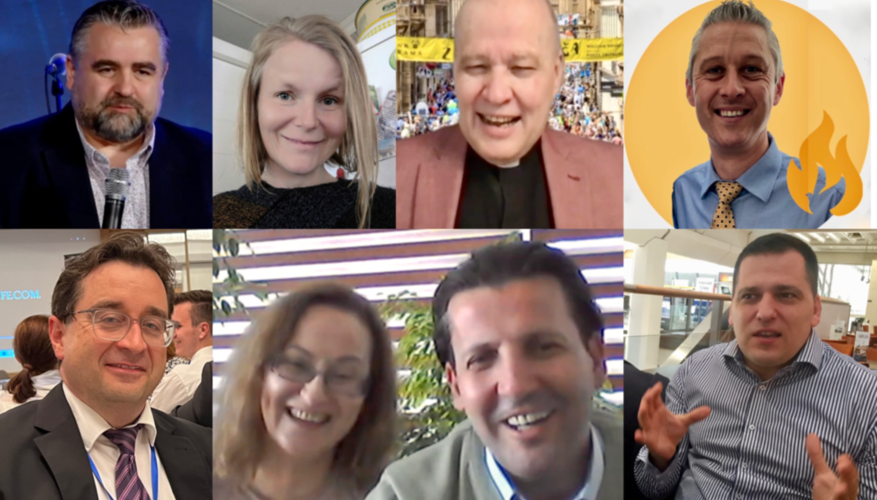 From left to right top: Phillip Hand, Marie Hagen van Wyk, Jan-Aage Torp and Christopher Poeschl. From left to right bottom: Tomislav Cunovic, Vesna & Emil Puzderliev, and Tomas Zdechovsky.
The «Insight with Pastor Torp» talkshows that are re-starting on November 2nd after a break of almost 14months, are already being produced for print by the acknowledged Norwegian weekly newspaper, Norge Idag.
The first article was presented on Friday, based on Pastor Jan-Aage Torp´s talkshow on March 21st, 2021 with Christophet Poeschl, the Pastor from Vienna, Austria.
- Most of my talkshows are timeless, so this is not «old», underscores Jan-Aage Torp.
Each article in Norge Idag will be written by the Norwegian journalist Marie Hagen van Wyk, who resides in Rehoboth, Namibia with her Namibian husband Eugene and their three kids.
- Marie is an old friend and member of Oslokirken, who moved to Namibia in 2013 after I wedded them, says Jan-Aage Torp. - Marie writes well. First, she makes a transcript, then she translates into Norwegian, and then she makes a journalistic presentation of the most relevant points. I try to provide good photos, and lastly Norge Idag presents it in their paper newspaper every Friday.
After the article with Pastor Poeschl on Friday, the following articles have been produced, and are waiting to be published in the newspaper: 1) Phillip Hand (Crewe, England). 2) Tomislav Cunovic (Frankfurt, Germany). 3) Tomas Zdechovsky (Prague, Czech Republic). 4) Emil & Vesna Puzderliev (Struga, North Macedonia). - Marie is making one or two every week, and she seems to really enjoy it, says Jan-Aage.
- The background for this is that the Chief Editor of Norge Idag, Mr. Finn Jarle Sæle, wrote an editorial on September 2nd that has brought my TV programs into a proper perspective, says Pastor Torp. He had hardly heard about my TV programs until this summer, and now he is super-enthusiastic, and wants to present them to his readership.
Here is what Finn Jarle Sæle wrote on September 2nd (Google Translator):
«Norge Idag has the privilege of presenting interviews from the successful program «The Capitol» which is produced on Visjon Norge.

«The Capitol» is a real TV symposium, where national and international leaders, and ambassadors for large and small countries - get to speak directly about what they think about the burning issues in the world.

And Jan-Aage Torp has a busy time running to visit the ambassadors from the world's leading nations, to keep the dialogue going on everything from religious freedom to the green shift, and not least peace and reconciliation between the nations - in a world of dangerous war and terror.

And interviews flow one after the other into Norwegian Christian television and out in English on Torp's international website, where a program is already subtitled in Arabic.

In Norway, hardly any newspaper or press has such an interview series - with the top people in the environmental movement, industry, law and legislation, press, diplomacy, or politics - as Visjon Norge has with the successful program «The Capitol».

It's a good expansion. Someone had to take Norwegian Christian journalism from scandal and gaping sticks to insightful world-class interviews - with insight, peace and reconciliation as goals».