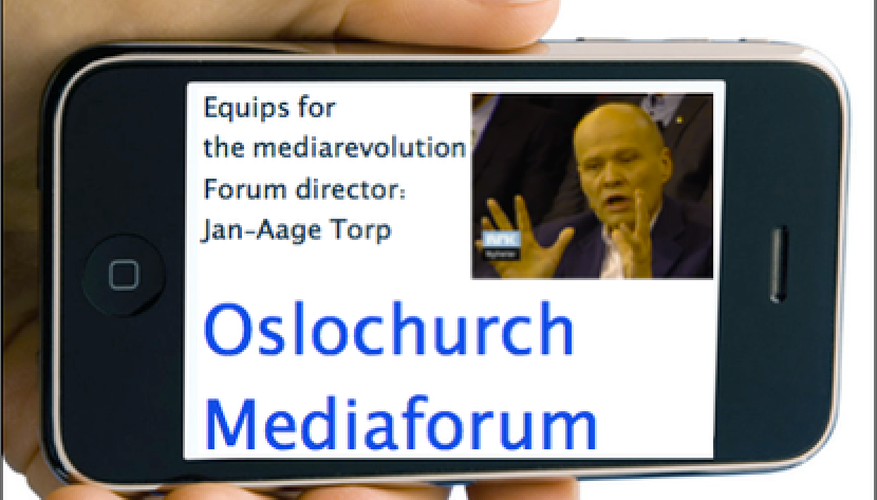 Values-conscious Norwegians are inadequately prepared for the media revolution. This is the reason why Jan-Aage Torp is now taking the initiative with Mediaforum.
- I myself was trained in radio and television in 1983 at the Catholic Media Training Centre in London, sent by Kristelig Kringkastingslag (now Familie & Medier). I learned from the Pope's special leader for the media, Bishop Agnellus Andrew, both to make productions and to perform in the media. This is undoubtedly an important reason why I have made hundreds of appearances in secular radio and television in Norway over the past 20 years, says Jan-Aage Torp who is the founder and leader of Mediaforum.
- In 1995, I gradually started learning the internet and the web, but only in 2005 did this accelerate. In recent years, I have learned to use the web, blog, twitter, video, podcast in an effective way so that our ministry reaches thousands on a daily basis, quite evenly distributed in Scandinavia (Norwegian) and the rest of the world (English).
- My passion is to raise an army of media-savvy Christians and other values-conscious people who will use old and new media to present the message. In Norway, I see that it is the secular Christians who to some extent engage in the media, but they do not represent a countercurrent to secularization, and they are often ashamed of the most obvious biblical truths. I also see that very few of our new countrymen, many of whom are revival Christians, have had the opportunity to assert themselves in the media. There are partly linguistic and cultural reasons for this, but most of all it is because Norwegian, Christian leaders do not at all promote them as anything other than cultural entertainment elements. But these new countrymen represent an intellectual force that is a necessary corrective in Norway today, emphasizes Jan-Aage Torp.
- In our Mediaforum we will convey great vision and practical skills, says Torp.
- We will have meetings about every four weeks. There will be practical seminars and workshops on writing and photojournalism, video production, newspaper production, websites, twitter and social media, blogging etc.
- And there will be gatherings with leading media players who will convey great vision and personal perspectives.
- The first gathering will be on Thursday, November 29th at 18:00-20:00pm at Gamle Banken Pub in Skippergata 9. We charge NOK 100 per person (cash only!) which covers our own rent and expenses. Here we will have an exciting speaker, Leo Ajkic, Norway's perhaps most talented young reporter, known for his work with «Leo & Ulandslaget», «Trygdekontoret» etc. He will convey personal experiences and perspectives.
- After New Year, we will have lectures by an editor from BBC London, media leaders in the Christian movement in Norway, profiled media leaders in secular media, an editor from a major newspaper in Asia etc. This will be exciting and challenging, says an enthusiastic Jan-Aage Torp.
- Teaching and lectures will be in Norwegian, but with translation to-from English where necessary.
- You do not have to be a Christian to participate, he emphasizes. -If you are willing to learn, then you are welcome! But the purpose and focus will be on communicating basic values ​​and the Bible's eternal message, says Jan-Aage Torp.