Today, the Oslochurch pastor Jan-Aage Torp received a telephone call from the Methodist pastor in Bergen, Leif S. Jacobsen. Leif & Jan-Aage are friends and have been pastor colleagues for many years, but the call today was about something unpleasant.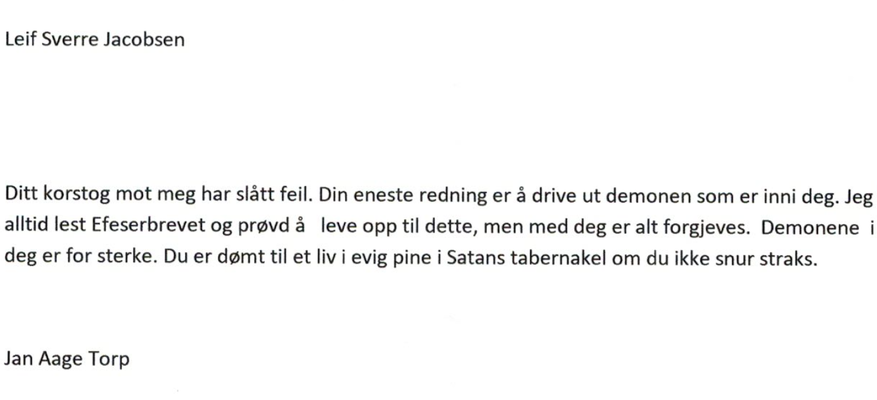 Copy of the false letter to Pastor Leif Jacobsen
- Leif Jacobsen called to tell me about a letter he had received today with my name as signature, says Jan-Aage. The letter states:
Leif Sverre Jacobsen Your crusade against me has failed. Your only rescue is to cast out the demon that is within you. I have always read Ephesians and tried to live up to this, but with you, all is in vain. The demons within you are too strong. You are doomed to eternal anguish in Satan´s tabernacle if you don´t turn around immediately. Jan Aage Torp
- Even though Leif & I laughed, both of us were shaken by the fact that someone could abuse my name so gravely. Leif & I have always had a respectful and trusting relationship to each other. Leif´s immediate approach to me shows how authentic and honest he is. Others might perhaps have just thrown the letter in the garbage without even telling me, but Leif is not like that.
- Later on today, Oslochurch has received similar enquiries, even a few minutes ago from a bankier who today received a letter with "a collection demand" from Oslochurch because of alleged unpaid "tithes". I am grateful that this bankier contacted us immediately. Here is the (anonymous) text:
Hi, I have today receuved an unpleasant letter from you which states that I in early 2014 promised to give a tithe to your ministry by paying 1000,-. The pledge was given by phone.... What this is, I don´t know, and I question seriously the wording and the demand which would be sent to legal collection if I don´t pay. I work with such matters myself (collection and payment breaches), so I request that you send me documentation for this alleged telephone call in which I should have pledged to make such a donation. Which I obviously dispute. I find the letter and demand without any substance, and choose to ignore the whole matter.
- We are gathering all documentation about these matters, and we suspect that many have received false letters where my name and Oslochurch has been abused. Please contact us and send documentation so we may convey the material to the Police, who already have indicted a man for serious harrassment and smear against Aina & me, says Jan-Aage Torp.