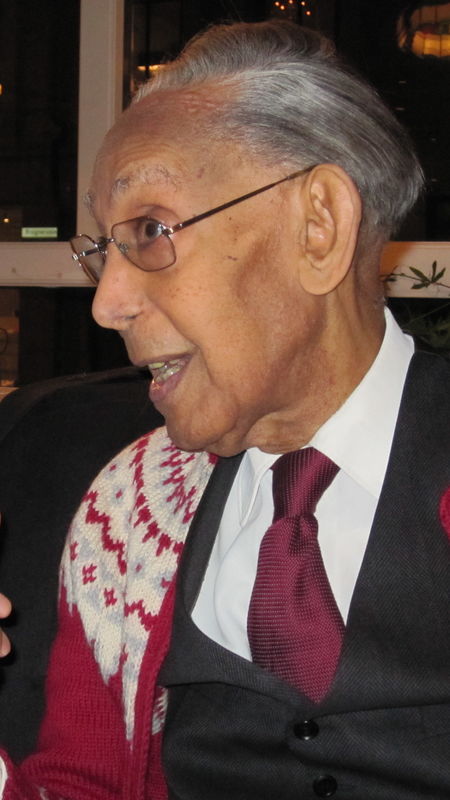 Emanuel Minos (1925-2014): A man of grace has moved home! The funeral service takes place in Filadelfia Church Oslo on Friday, November 28th at 10:30am.
During the night of November 15th, Emanuel Minos passed away after a few days battle with pneumonia. He called me on Thursday, November 6th, and we had an hour long conversation. He showed his warm care, and he asked Oslochurch to pray for his health. He was so happy to hear good reports from our life and ministry.
On Saturday morning November 8th, Åse Minos called urgently to say that Emanuel suddenly was hospitalized. The day after, Aina & I flew to USA for a week long conference. At the airport in Newark we received one week later the unfathomable message that Emanuel was promoted to glory.
Emanuel Minos was born in Belgian Congo of a Greek father and a Congelose mother, but was adopted as a 4 year old by the Norwegian pioneer missionaries Gunnerius & Oddbjørg Tollefsen. Emanuel was known even as a 5 year old as a preacher, and this characterized him for the rest of his life. He was close to the pentecostal generals T.B. Barratt, Lewi Pethrus and Smith Wigglesworth. He studied for several years at Oxford University, and excelled with his great intellectual capacity. He also received a theological doctorate.
I knew Emanuel Minos for 40 year, especially through my dear pappa & mamma. but for the last 20 years I experienced personally time and again the power of his warm heart and willingness to restore relationships and people who had fallen by the wayside. I was one of them!
The photo is from our weddding on December 18th, 2010 when Emanuel gave a warm speech for Aina & me, and together with his Åse he gave us the joy of being our guests for the wedding dinner.
Peace be with Emanuel Minos´ beautiful memory! We pray for his lovely wife Åse and the children in this time of sorrow and and loss.