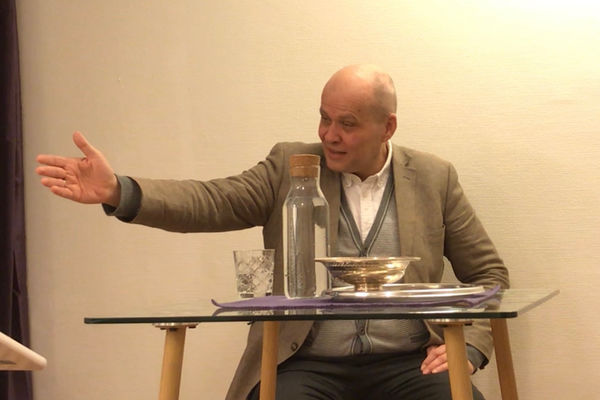 Pastor Jan-Aage Torp taught in the Ecclesia Night yesterday about building a Christian culture of honor in our lives. - The concept of «honor» may have other meanings in muslim and other cultures, which include gruesome phenomena such as «honor killing», so we must make sure that we are building on God-given foundations. That is why we say «a Christian culture of honor», he underscored.
Jan-Aage maintained that a Christian culture of honor is based on our living for the glory of God:
«To the King of the ages, immortal, invisible, the only God, be honor and glory forever and ever. Amen.» (1Timothy 1:17)
To honor God will bring honor to us as well says 1Samuel 2:30:
«Now the Lord declares: 'Far be it from me, for those who honor me I will honor, and those who despise me shall be lightly esteemed.»
We should not single out one or other area only, but we should take seriously all the areas where the Lord instructs us to show honor:
Marriage:
«Let marriage be held in honor among all, and let the marriage bed be undefiled, for God will judge the sexually immoral and adulterous.» (Hebrews 13:4)
Parents:
«Children, obey your parents in the Lord, for this is right. "Honor your father and mother" (this is the first commandment with a promise), "that it may go well with you and that you may live long in the land." Fathers, do not provoke your children to anger, but bring them up in the discipline and instruction of the Lord.» (Ephesians 6:1-4)
Leaders of the Church:
«Let the elders who rule well be considered worthy of double honor, especially those who labor in preaching and teaching. For the Scripture says, "You shall not muzzle an ox when it treads out the grain," and, "The laborer deserves his wages."» (1Timothy 5:17-18)
Government:
«Let every person be subject to the governing authorities. For there is no authority except from God, and those that exist have been instituted by God. Therefore whoever resists the authorities resists what God has appointed, and those who resist will incur judgment. For rulers are not a terror to good conduct, but to bad. Would you have no fear of the one who is in authority? Then do what is good, and you will receive his approval, for he is God's servant for your good. But if you do wrong, be afraid, for he does not bear the sword in vain. For he is the servant of God, an avenger who carries out God's wrath on the wrongdoer. Therefore one must be in subjection, not only to avoid God's wrath but also for the sake of conscience. For because of this you also pay taxes, for the authorities are ministers of God, attending to this very thing. Pay to all what is owed to them: taxes to whom taxes are owed, revenue to whom revenue is owed, respect to whom respect is owed, honor to whom honor is owed.» (Romans 13:1-7).
One another:
«Love one another with brotherly affection. Outdo one another in showing honor.» (Romans 12:10)