After two Sundays of being away from Oslochurch, Jan-Aage Torp rejoiced yesterday in sharing a teaching on "Pursuing God´s Destiny".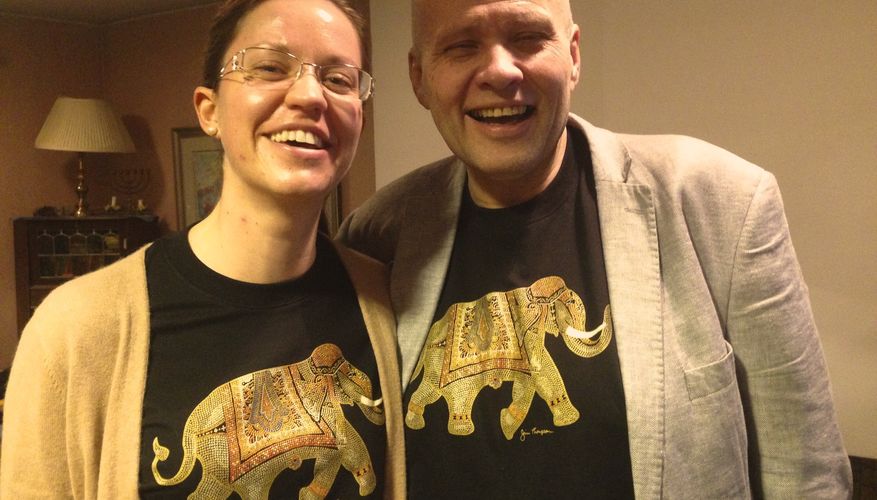 Aina & Jan-Aage both wore beautiful, matching Thai elephant-adorned T-shirts that were a gift from Thai Church of Bangkok
Aina Torp had shared a report from Thailand one week earlier, so the only reminder of the Torps´ Thailand mission was that they both wore beautiful, matching Thai elephant-adorned T-shirts that were a gift from Thai Church of Bangkok.
Jan-Aage stressed the word from Apostle Pul in Philippians 3:12: "Not that I have already obtained all this, or have already arrived at my goal, but I press on to take hold of that for which Christ Jesus took hold of me", and said that there is a "that" in life that is God´s special destiny for every individual. -But what is that? he asked rhetorically.
-Our destiny should always ne viewed in light of the Great Commission that Jesus gave the Church, he underscored: "Then Jesus came to them and said, "All authority in heaven and on earth has been given to me. Therefore go and make disciples of all nations, baptizing them in the name of the Father and of the Son and of the Holy Spirit, and teaching them to obey everything I have commanded you. And surely I am with you always, to the very end of the age"."
-And in that context, we need to count the cost, like Jesus repreatedly said to His disciples: "Suppose one of you wants to build a tower. Won't you first sit down and estimate the cost to see if you have enough money to complete it? For if you lay the foundation and are not able to finish it, everyone who sees it will ridicule you, saying, 'This person began to build and wasn't able to finish.' "Or suppose a king is about to go to war against another king. Won't he first sit down and consider whether he is able with ten thousand men to oppose the one coming against him with twenty thousand? If he is not able, he will send a delegation while the other is still a long way off and will ask for terms of peace" (Luke 14:28-32).
-The world defines "destiny" in a narrow, selfish way. It is all about personal success: Becoming a millionaire etc. But God has decided from eternity what our individual destiny is, said Pastor Jan-Aage.
Quoting the Ugandan Prayer General John Mulinde, he said: "Destiny is the pre-determined course which God ordained a person´s life to follow and the good destination it is supposed to come to".
Mulinde also says that "to be in God´s destiny is to live your life in fulfilment of the direction God planned and purposed for you in your generation!"
Torp cited Jeremiah as an example of a man who God had destined, and that can serve as a model for everdybody that God has a lifelong, eternal destiny for, and quoted Jeremiah 1:5: "Before I formed you in the womb I knew you, before you were born I set you apart; I appointed you as a prophet to the nations", as well as Jeremiah 29:11: "For I know the plans I have for you," declares the Lord, "plans to prosper you and not to harm you, plans to give you hope and a future".