In yesterday´s worship service, we received a broad teaching by Pastor Jan-Aage on "Spiritual Fatherhood, Sonship & Being Sent".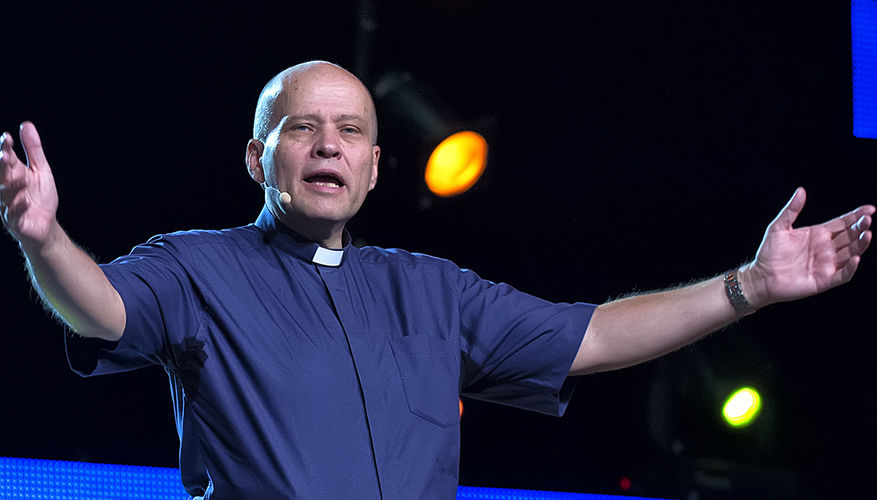 Jan-Aage spoke about the unity and diversity in the Triune Godhead: Father, Son, and Holy Spirit. How They/He created the world and humanity (Genesis 1:26-28). And how Jesus, the Son, obiediently and lovingly took on His redemptive task for mankind (Philippians 2:5-11)
-The Father & Son relationship in the Godhead is really a model for our Christian lives in the Church, he declared. -There is a quest today for the reality of spiritual fatherhood and sonship, and some of the need is met in the so-called "Father Heart movement". But, alas, this movement conveys good emotional aspects of the message, but it often becomes sadly distant and mystical, because the Fatherhood of God is meant to be fulfilled in our relationships with tangible, biological and spiritual parents, said Jan-Aage. -Many people pay lots of money to spend weeks in "Father Heart schools", but their needs are not met in real life!
-The hallmark of the present-day apostolic movement is the reality of spiritual fathers and mothers. Whereas the world provides mentors and coaches, which often gives excellent complementary help, the New Testament model is spiritual fatherhood and family, said Jan-Aage Torp. -Fundamentally, in the New Testament, spiritual "covering" is provided by pastors, and others who work in the spirit and heart of pastors, without necessarily having the title. Thus, in modern Church life, a person will not necessarily have one exclusive "father and mother", but a multiplicity of spiritual coverings, who all work in congruence, transparency and trust with each other. The goal is to help bring every one to perfection, and the Body of Christ to maturity, in accordance with Ephesians 4:11-16, established the Pastor.
-In 1Corinthians 4:15-20 we read the strong words from the Apostle Paul about the difference between "fathers" and "guides", which could also be called mentors, coaches, instructors, teachers etc: "For though you have countless guides in Christ, you do not have many fathers. For I became your father in Christ Jesus through the gospel. I urge you, then, be imitators of me. That is why I sent you Timothy, my beloved and faithful child in the Lord, to remind you of my ways in Christ, as I teach them everywhere in every church. Some are arrogant, as though I were not coming to you. But I will come to you soon, if the Lord wills, and I will find out not the talk of these arrogant people but their power. For the kingdom of God does not consist in talk but in power." Paul is not speaking against these other functions, but he is showing that the nature of the Christian life is family, parent-child, as within the Godhead.
Pastor Jan-Aage then gave Biblical examples, both Old and New Testaments, of such relationships, good and faulty: Abraham-isaac, David-Solomon, David-Absalom, Paul-Timothy, Paul-Epaphroditus, Paul-Titus, Paul-Demas etc.
-Our understanding of God´s nature leads to practical implications for discipleship, for Church, for how we send missionaries and commission 5-fold gifts for the Body of Christ, said Jan-Aage as he gave examples from the developing life and ministry of Oslochurch in Asia, Europe and beyond.