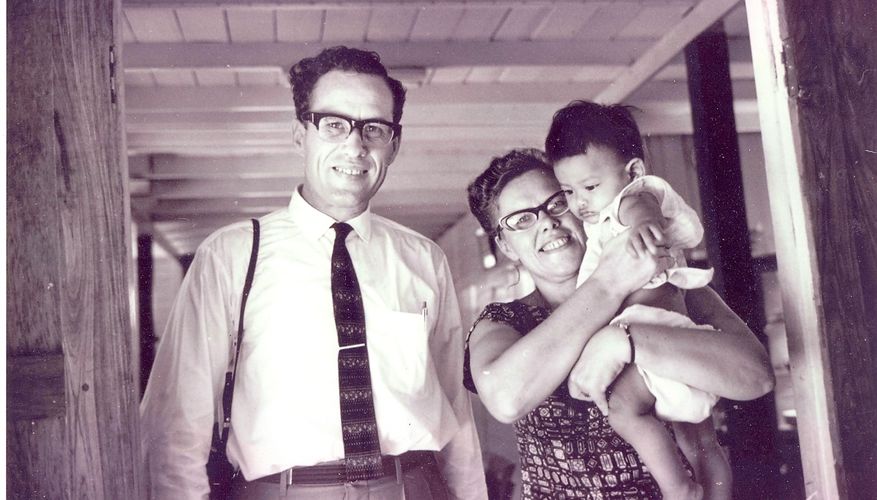 It all started in 1964 when missionary Anne Torp woke up early one morning in her Bangkok home, finding a baby of approximately five days in a plastic bag on her doorstep....
Immediately Anne & Aage Torp knew this was from the Lord, who had spoken to them for some time about starting an orphanage for Thai kids.
Their two children, Liv-Ellinor was nine, Jan-Aage six, responded jubilantly. This was fun! "Our home is now an orphanage!"
After some five-six months the number of orphans grew to six, and the time had come to find a separate building. Anne found a woman in the Thonburi side of Bangkok with a real love for children, and also a committed member of the Free Christian Mission FCM Church that Aage & Anne had founded in Thonburi. Her name was Jampi, and together with her husband Thongyoi, she offered her home as the first "Christian Children´s Happy Home".
Until1970 the orphanage grew to some 60 children from all over Thailand.
Now the time came for new development. The Chinese missionary from Singapore, Mrs. Rosalin Lim, and her husband, Rev. John Lim, accepted the calling to take over.
A new building was raised in the Donmuang area of Bangkok, and the number of children grew to 70.
From the inception, Happy Home was an international project, even though most donors were from Norway, and several members of the diplomatic and business community in Bangkok were actively involved.
Anne & Aage Torp with their children left Thailand in 1971, but remained passionately involved until their death. Aage died in 1983, Anne in 2007.
Norwegian missionaries to Thailand, Anna Kristensen and Martha Mjøs, were actively involved in the orphanage since the inception in 1963, and Anna became the director in 1993, when Mrs. Rosalin Lim moved to the US, but still maintaining an active role from abroad.
Since 1998, Jan-Aage, the son of the founders, now a pastor in Norway, became actively involved in the orphanage, conducting camps every year in Thailand, aided by his fluent Thai-language. Since 1998 he has had the role of committee chairman for Christian Children´s Happy Home.
The directorship for the home was handed over to Mrs. Namjit, a daughter of the Lim´s, in 2006 when Anna Kristensen left Thailand for good because of old age and weak health.
Since 1971, Happy Home has been under the ownership and spiritual input of Bethel Baptist Church in Bangkok, a Chinese-Thai congregation founded by Rev. John Lim. For several years, Mr. Peter Lim, a son of John & Rosalin, has been the lay leader of Bethel in Bangkok.
From 2007, Happy Home has been downscaled to just a handful of young people who are actively pursuing their education. Jan-Aage & Aina Torp are actively participating in the spiritual development and nurturing of the hundreds of young people that have been raised at Happy Home,and who today are living and prospering all over Thailand.
Together with Bethel Baptist Church in Bangkok, Oslochurch in Norway is involved in the active search for suitable, younger leadership of Happy Home in the future. Help us pray for this significant endeavor!