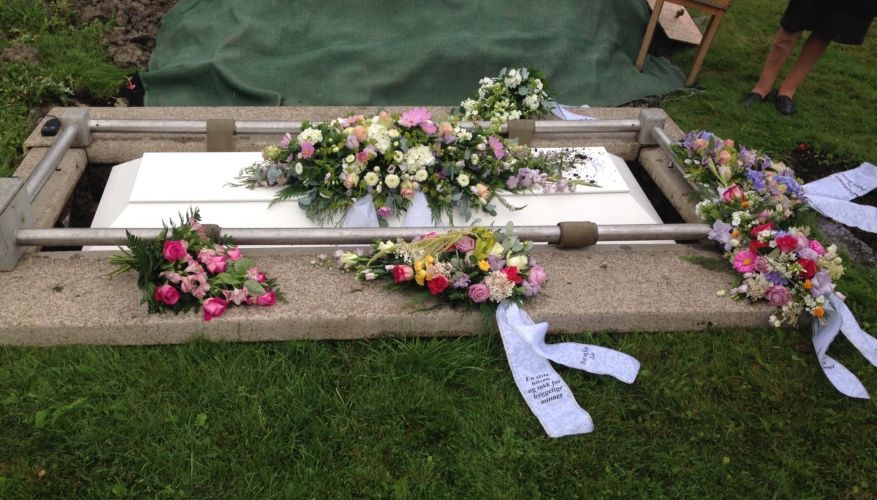 Anna Kristensen´s casket at the Fenstad Church Cemetery
In a moving ceremony yesterday at the Fenstad Church Cemetery, our dear missionary Anna Kristensen (86) was laid to rest.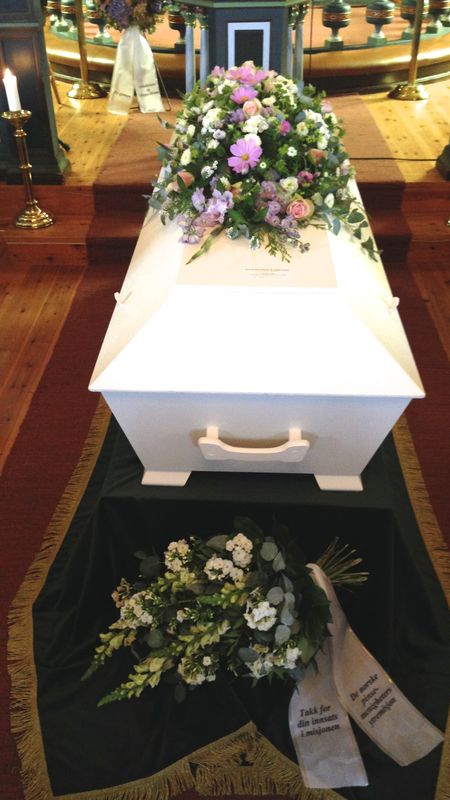 The beautiful casket inside the church
Pastor Jan-Aage Torp officiated, using the official ceremonial pattern of the Church of Norway. In his very personal speech he remembered his close relationship with "tante Anna" (auntie Anna) since 1962, when he was five years old. He painted a beautiful picture of Anna as a person with extraordinary love for her own Norwegian family, and for hundreds of young people in Thailand where she served faithfully from 1962 until 2007.
A wreath of honor was presented from the Pentecostal Foreign Mission of Norway, represented by Rev. Oddvar Johansen, who served with Anna in Thailand for many years.
Another combined wreath of honor was presented from Christian Children´s Happy Home and Oslochurch by Pastor Aina Torp.
Beautiful solo songs were presented by Birgit Brinck: "Navnet Jesus blekner aldri" (=The Name of Jeus never fades), "Jeg vet at det finnes en himmel" (=I know that there is a heaven), and Øyvind Fragell´s precious song "Sjelen den trenger til hvile" (=The soul needs rest).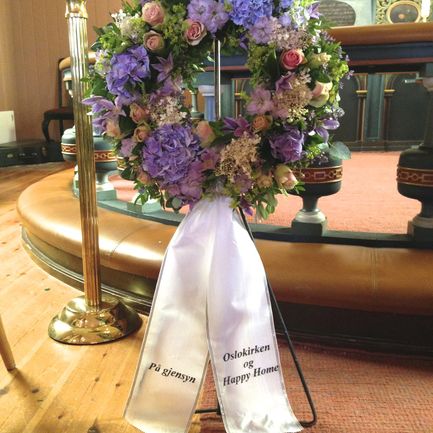 The wreath of honor from Happy Home and Oslokirken
The hymns were "Kjærlighet fra Gud" (=Love from God), "O, bli hos meg" (=Oh, stay with me), "Det er makt i de fodede hender" (=There is power in the folded hands).
The Cantor of Fenstad Church, Øyvind Sørum, played the majestic tunes.
At the grave afterwards there was a time of final commemoration as well.
Anna Kristensen´s cousins, Reidar Sannerud (67) and Tor Sannerud (75) afterwards hosted a warm memorial service with some 50 guests from family and friends. Beautiful speeches and songs were presented in honor of Anna Kristensen.
Fenstad Church which is located in Nes county in Romerike, is a wooden church building from 1703.