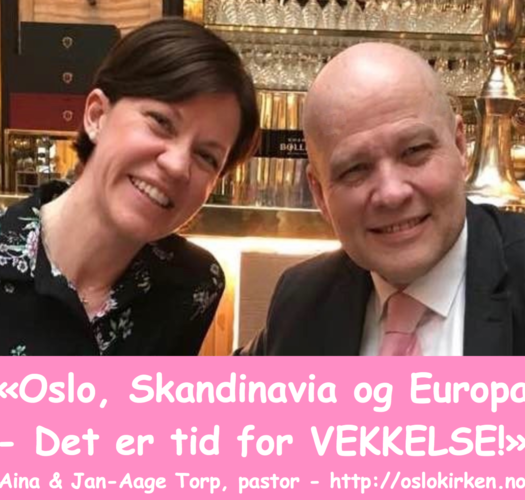 «Oslo, Scandinavia and Europe - It is Time for REVIVAL!»
Now it is time for revival in Oslo, Scandinavia, and Europe!
We have with faith and devotion established a center for reformation and restoration in the heart of Oslo, 50 meters from Karl Johan´s Street and the national institutions.
But now God is calling us to expand our tent pegs for REVIVAL in the capital city with powerful consequences in Scandinavia and Europe.
Our calling is to bring Jesus Christ to Oslo, Scandinavia and Europe.
About to lose it?
Oslo is in God´s heart. This is «the city with the big heart» (cfr the popular song hit with Lillebjørn Nilsen and Nora Brockstedt) and «the city of goodness» (cfr the legend of Saint Hallvard and Oslo´s coat of arms) which is about to lose both her heart and her goodness.
Today a culture of murder and violence is unfolding in Oslo. This is illogical for a capital city in the world´s wealthiest nation. Every day we read reports of knife-fights, rape and murder. Politicians and police alike are powerless.
Not curse, but bless
But we are not called to curse. We are called to bless.
When the abortion law passed in Parliament 40 years ago, it was right to declare judgements over Parliament, the Government, the Supreme Court, the media, and all those who were responsible. But we must learn from Jesus: When He cursed a city, He did it once, and He knew thar the Word had power. Jesus cried.
Now everyone can see - if they want to see - that Norway has loosed the forces of destruction on both the cities and the nation as a whole.
But God has given us pure hearts that pray for and believe in revival, reformation, and restoration.
The people need to be restored to our God-given calling and life.
Time for revival!
Now it is time for repentance and revival in Oslo.
We have for years prayed for revival in the capital city. We have seen glimpses. But now it is time to act and expect that God intervenes.
We will use all God-given means: Revival campaigns, healing ministry, tv-broadcasts....
And our key role as a church and reformational center for Norway and Europe will flow together with the life-transforming faith, hope and love of revival.
«I will (...) open the windows of heaven for you and pour down for you a blessing until there is no more need. I will rebuke the devourer for you, so that it will not destroy the fruits of your soil, and your vine in the field shall not fail to bear, says the Lord of hosts.» (Malachi 3:10b-11).
Now it´s time! A new season. A season of restoration. A season of miracles. A season of revival.