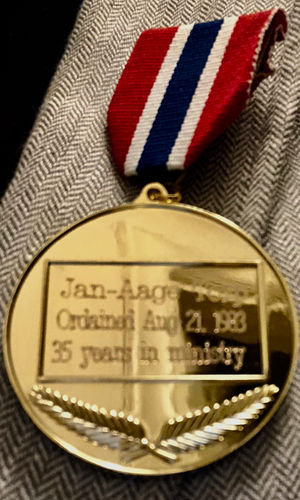 The medal of honor
The 35th anniversary of Jan-Aage Torp´s ordination was celebrated today in Oslochurch. It was truly a memorable time.
Jan-Aage was congratulated with beautiful written greetings from all three members of the Executive Committee of European Apostolic Leaders (EAL): Marshall Cross (Scotland), George E. Markakis (Greece), and Wieslaw Ziemba (Poland) as well as Norwegian pastor colleague Karl-Axel Mentzoni (Fredrikstad) and businessman friend Johannes Markhus (Grimstad). There were also beautiful congratulations from several members of Oslochurch, led by his wife Aina.
A golden medal of honor was given to Jan-Aage, inscribed with the following words: «Jan-Aage Torp. Ordained Aug 21, 1983. 35 years in Ministry».
Scriptures were proclaimed over Jan-Aage Torp from 1Timothy 4:14-16; 6:12-14; and 2Timothy 1:5-8, followed by impacting prayer over the Torp couple.