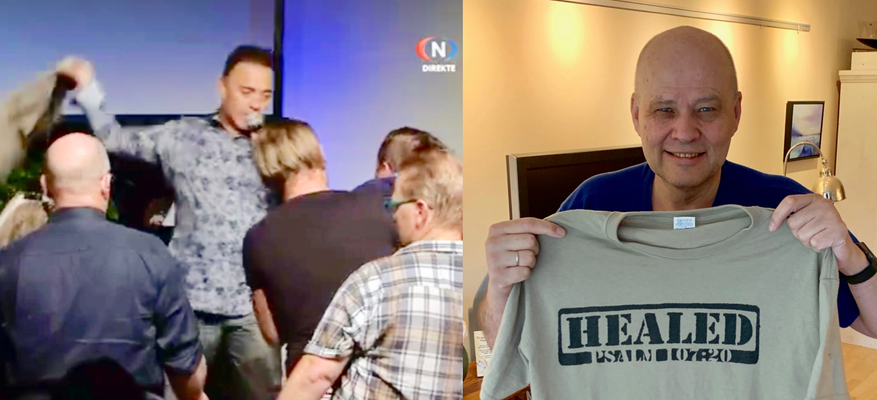 In the Prophetic Conference on TV Visjon Norge this weekend, prophet Rich Vera has been used mightily by God to minister healing and deliverance. Last night he used a t-shirt with a «HEALED» label on the front as a contact point when he ministered healing, deliverance and empowerment to the people. At the end of the service, he publicly gave the t-shirt to Jan-Aage Torp.
- It was a prophetic confirmation from God that we shall re-establish a healing ministry center in the center of Oslo, says Jan-Aage. - That t-shirt will be on the wall as a faith reminder, smiles Jan-Aage Torp who says that an increasing number of people have approached him to ask when the center will come back. He can reveal that Oslochurch plans to re-establish a new healing ministry center, similar to what he led in 2007-2009, and he adds: - It will not be a copy, but a fresh expression for the new season and opportunities in Oslo which is the most cosmopolitan city in Northern Europe as well as the «narcotics capital» of Northern Europe.
From 2007 to 2009 Pastor Torp responded to a calliing from God to establish a Healing Center on the main street in Oslo. Prophet Sharon Stone prophesied this in 2003. The Healing Center was a huge success with hundreds of people receiving healing, deliverance and salvation.
There was also much controversy around the Healing Center with sensational cover stories in the tabloid newspapers.
In March 2009 the Norwegian Broadcasting Company (NRK) - which is Norway´s largest tv channel - had a positive report about our Healing Center in the main evening news. Watch below:
NRK Lørdagsrevyen - Healing Center